Domain Registration
Snap 360 gives you access to the largest selection of domain names available. All generic, specialty and country-code extensions are available at competitive prices, plus hundreds of new top-level domains including an available inventory of over 17 million premium domains.
Name Suggestions, based on keyword popularity, domain extension and word relevance, are available. Contact us now for confidential assistance in getting the perfect domain name for your website.
High Performance Hosting
Our managed servers are carefully fine-tuned for performance and security, giving your website the advantages of speed, security and high-availability.
Great Response Time and Throughput
Welcome your visitors with web pages that snap onto their screens, typically 200-300% or even faster than mass-market hosting providers. The comparison charts below show an actual difference of 1000% web page delivery speed.
Don't let prospects wander off while waiting for your home page to appear…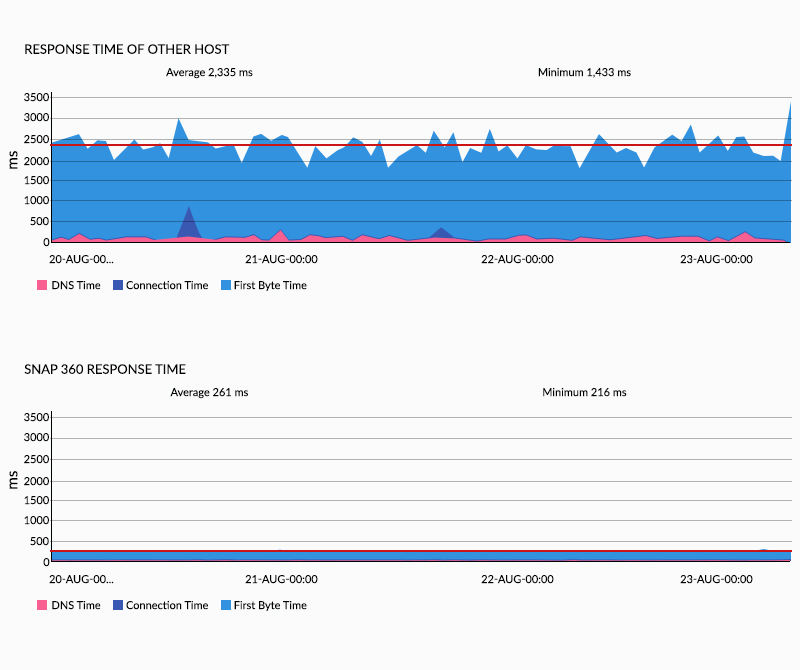 Security
All traffic is filtered through a Next Generation Firewall, which provides Intelligent Layered Security, including stateful packet inspection to proactively block viruses, spam, worms, spyware, trojans, and blended threats without relying on signatures for true Zero Day protection.
Target ports are also blocked and cloaked from hackers scanning for exploitation opportunities. Hosts exhibiting suspicious behavior, such as port scans, SQL injection attacks, cross-site scripting attacks, malformed packets, and Denial of Service attacks, are immediately identified and automatically blocked.
The webservers' operating systems and software are hardened internally against intrusion, including carefully restricted permissions, database isolation and much more. Internal firewalls and regular anti-virus scanned add even more protection.
WordPress Security
The advantages and popularity of WordPress has made it a favourite target of pro hackers. Extra layers of protection help keep your WordPress website safe from defacement, identity theft, malware injection, spamvertising and worse.  Learn more
Fail-over Servers
Running in a virtual environment on multiple IBM servers, your website just keeps going – even in the event of a hardware issue.
24/7 Monitoring
Host servers, monitored independently, from multiple locations, trigger instant alerts to our tech team in the event of any hiccups so they can be promptly corrected.
Independent monitoring of your unique website, with real-time performance charts, is available for access through your private back office. Standard with our Pro Service Level (SLA) Agreements.
Backups
Daily.
Powerful Business Class Email
Enjoy the freedom and power of best-of-breed services. Why wait minutes or hours for your email to be sent or received?
Connect instantly from you desktop with Outlook or Macmail. On the road? Log in through SSL-secure Webmail or just use your smartphone. Using Exchange or Office 365? No problem, go direct or let us screen incoming mail for viruses and spam.
SSL encryption keeps your confidential email, confidential.
Anti-virus, anti-spam filtering? Of course.
Competitive Pricing
High powered, un-throttled web and email hosting starts at only $108 per year.
For details, pricing schedule, a copy of our Pro Service Level Agreement (SLA) and a custom quote, just drop us a line.