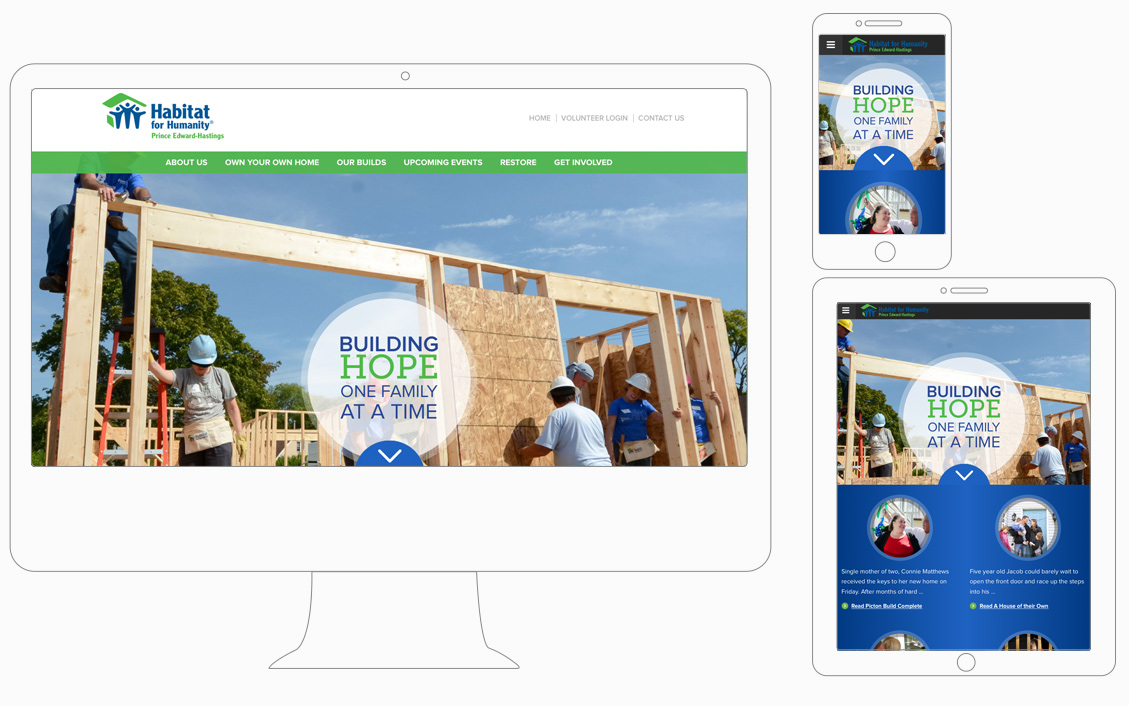 About Habitat for Humanity Prince Edward-Hastings
The Prince Edward-Hastings chapter of Habitat for Humanity Canada was formed in 1994 to mobilize volunteers and community partners in building affordable housing. Habitat for Humanity is an international organization which works through local chapters to provide safe, decent and affordable home ownership as a means to breaking the cycle of poverty.
Project Goals
Habitat for Humanity Prince Edward-Hastings (HPEH) needed a website with more flexibility to grow as their organization is growing and evolving to meet the needs in the local communities. During the planning phase of the project, the following goals were identified:
Create a new, responsive design that better communicates their brand and mission
Empower staff to fully manage the website through an easy-to-use online interface
Better engage with their audience through timely updates and better use of photos and news
Website Highlights
HPEH's new website is a perfect blend of design and function. Appearing simple and straightforward to the website visitor, it is also programmed to scale easily as HPEH needs to add new pages, events, builds, etc.:
Custom Project pages make adding, updating and archiving a breeze
Comprehensive intake forms for volunteers and families in need
Complete administrative control made simple for HPEH staff
Custom Project Pages
Build projects are the focus of volunteer and sponsorship opportunities. In the new website, we brought these pieces together to form engaging and informative project pages that would highlight the current builds and their sponsors and to provide clear calls to action to join the effort. These pages are built in such a way that they form a project archive as builds are completed.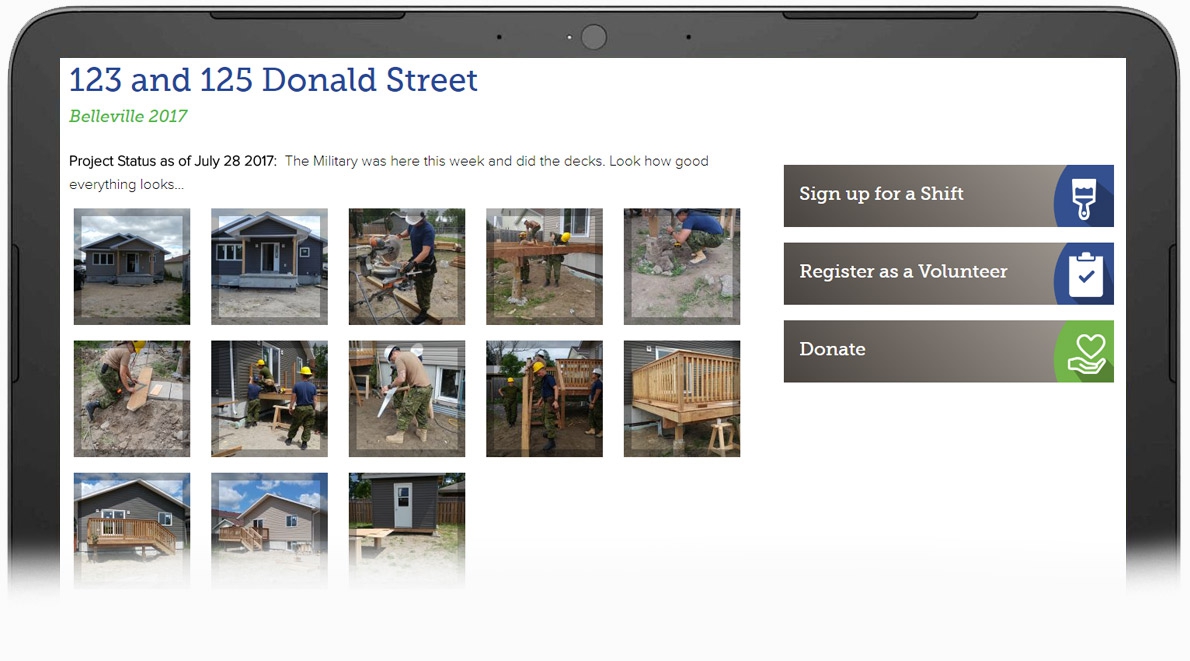 Comprehensive Intake Forms
As a volunteer organization, efficient processing of applications is crucial. Several forms were created for the website which reflect the unique processes required by different parts of the organization.
The volunteer form is the most comprehensive and required custom programming to make parts of the form invisible unless required. These sections appear based on what information the applicant has filled in.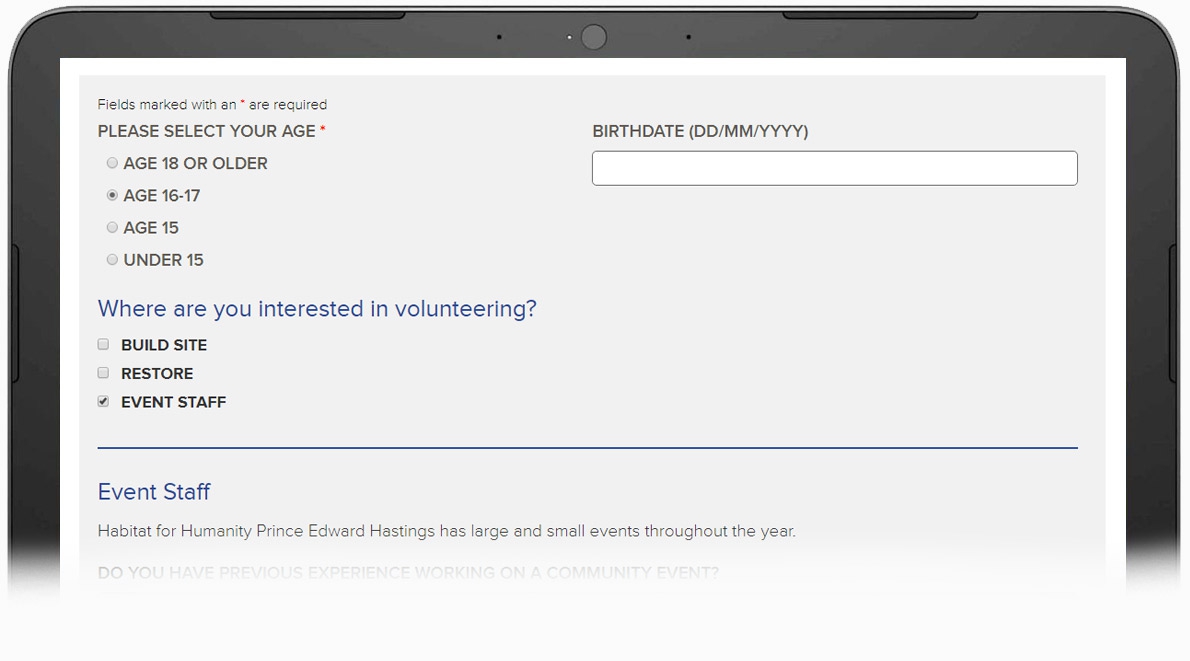 Complete Administrative Control
We used the WordPress content management system for the HPEH website, with some custom enhancements. WordPress allows administrators to edit page content and even add or remove pages as needed. All pages, projects, sponsors, events, news and even forms are controlled via the WordPress admin.
To make the task of updating more efficient for their staff, we used Custom Post Types to create special Build pages that are easy to add and keep up to date.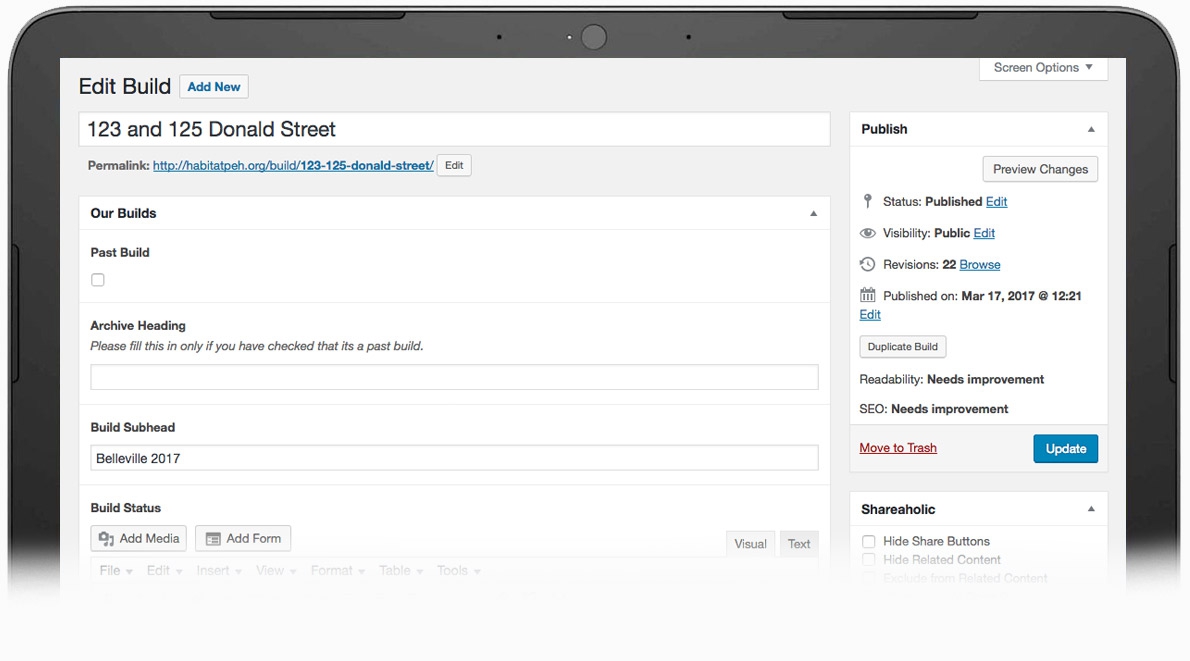 Results
Since launching the new website:
Traffic has increased more than 1300% to over 700 sessions a month
New visitors to the website now spend 280% more time reviewing site content
Returning users spend twice as long on the site as they did before
In the past year, more than 500 people have filled in forms to connect with HPEH, including over 100 new volunteers and over 200 applications for housing