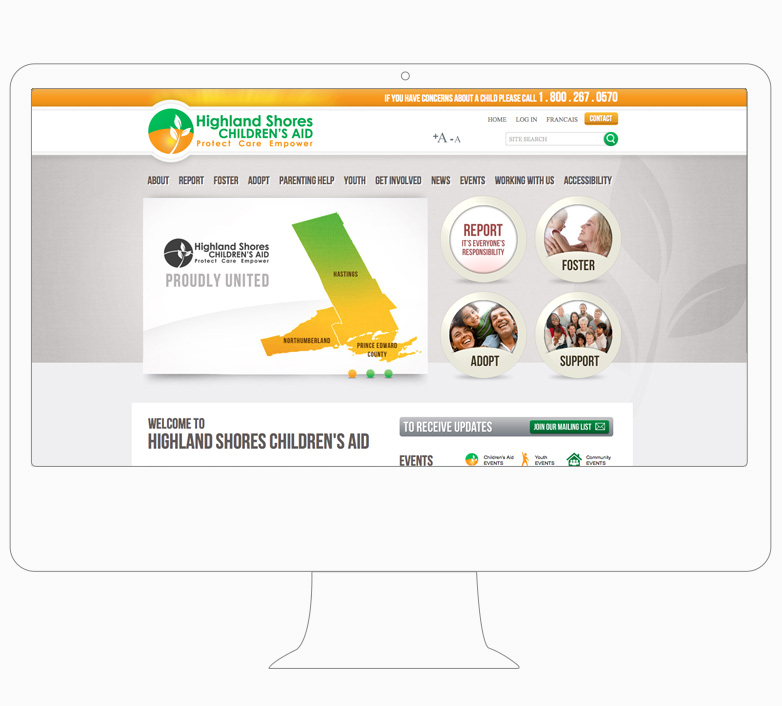 Project Summary
We launched a new website for the Highland Shores Children's Aid Society to meet a unique set of goals:
Website developed in collaboration with multiple committees and stakeholders
Friendly and intuitive design that can accommodate a large and diverse amount of information
Clear doorways for priority audiences such as foster parents
Fully compliant with the WCAG 2.0 Level AA accessibility requirements
Complete content management system (CMS) that would enable the posting of news, events, resource materials, volunteer opportunities
Online eNewsletter Sign-Up
Custom-developed secure communications areas where internal staff can share information regarding announcements, events, documents, contact lists, meeting agendas & minutes
The Challenge
The Highland Shores Children's Aid Society (HSCAS) is an organization with a large variety of stakeholders, audiences, services and processes.
Goal: Serve a Wide Variety of Clients & Stakeholders
Each HSCAS client has a unique set of needs. For example, HSCAS helps foster parents work through the foster parenting process. It also helps to prepare youth for university. The website needed to serve all of these audiences simultaneously.
Goal: Raise Public Awareness & Involvement
An important element of the mandate of the HSCAS is to promote awareness and involvement in issues facing children and families in the area. It was critical that that public's impression of the organization be both positive and consistent.
Goal: Facilitate Internal Communication Processes
At the same time, the internal structure of the organization is complex. At the time of the website redesign, the organization was in the process of amalgamating two different counties, each of which had a collection of offices totaling more than 400 staff members. The organizational structure included a central board and multiple committee groups who needed to communicate in an efficient and effective manner. Each committee and group had a different strategy for communicating. Furthermore, some of the information was highly confidential and needed to be kept private.
It was critical that the website helped to facilitate internal communication between internal teams in a manner that was both user-friendly and secure.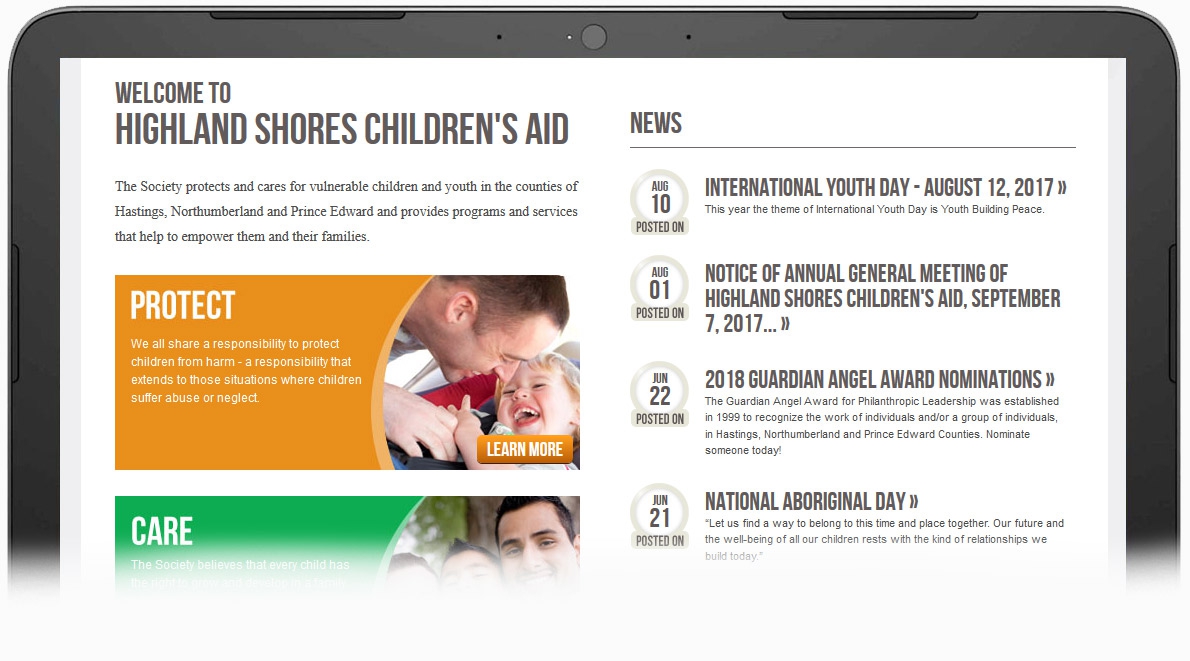 The Solution
The Development Process
Part of the solution involved establishing a process by which the 8-person website committee could organize the priorities and goals of the website. We began by meeting individually with each committee member to understand their goals and responsibilities. Once we had collected this information, we working with our primary contact to develop a plan that would meet the needs of the individual committee member. This plan was presented and revised through a series of meetings with the committee as a group in order to arrive at a consensus at every milestone.
Outcome: A Plan that Served the Goals of All Stakeholders
Through this process it was decided that the public side of the website should include information regarding events, programs, links to important resources, careers & internships. Each committee member was responsible for collecting and developing the content of their area. Audience-specific portals on the website so that individuals (e.g. foster parents) could easily find the information they were looking for.
We also developed private secure areas of the website for staff announcements, events, documents, contact lists, meeting agendas & minutes.
The Results
The new website provides a hub for everything related to the organization, thereby presenting a clear and positive message to the community and increasing the efficiency of internal and external communication.
Effective Communication with Key Target Audiences
Community members who are looking for help can now find clear guidance on their options and next steps. The media now have easy access to new releases and organizational activity. Individuals who are interested in supporting the organization can see the positive effect that the organization is having on the community and discover clear options for helping out through volunteering or donating.
Effective Internal Communication Tools
All board and committee members follow the same process to access and update information: they can log in to a central location to see information regarding upcoming meetings or look at minutes from previous meetings, saving time and confusion.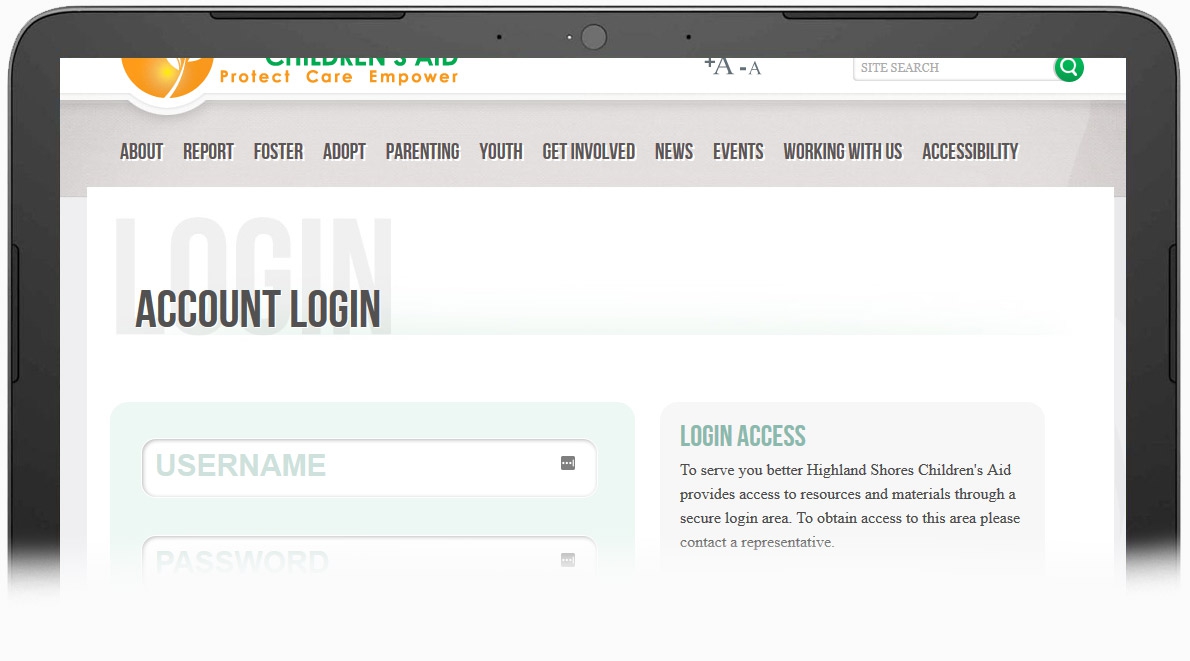 Effective Website Administration
The staff who maintain the website have unique permissions that enable them to edit their particular section of the website, reducing error. Top-level website administrators are able to monitor and update all areas of the website.