Project Summary
We launched a new website for Sandbanks Summer Village in March 2014 that was designed to meet a unique set of goals:
Attract the interest of cottage buyers from local metropolitan areas (Toronto, Ottawa and Montreal)
Communicate a unique brand message, connecting the cottages with the recreational, cultural and culinary opportunities of Prince Edward County
Highlight the unique features of the cottages, including the facilities, amenities and activities
Increase website engagement and conversions
The Challenge
Sandbanks Summer Village is a unique organization that offers three-season cottages for sale under a condominium model. The concept is based around the idea of a shared community of like-minded people. Along with the benefit of a friendly community atmosphere, this model also provides all owners with access to resort-style facilities and amenities, such as an infinity pool, activity rooms, an exercise facility, etc.
This is a relatively new concept for Canadians. Furthermore, many of the potential buyers live far away from the Sandbanks Summer Village sales center, in metropolitan areas like Toronto, Ottawa and Montreal.
The new website needed to attract visitors from these areas, and then clearly explain this new concept of a cottage community, all while inspiring people's imaginations and encouraging them to take the next step and contact Sandbanks Summer Village directly.
First: Fine-Tuning Branding and Messaging
First, we worked with Sandbanks Summer Village to fine-tune their branding and prioritize their messaging so that it would resonate with their target audiences. We made sure to highlight the benefits of the cottage community, focusing on the extra services and facilities available. We also made sure to associate Sandbanks Summer Village with the up-and-coming area of Prince Edward County, a rising cultural, artistic and culinary hub of Ontario.
New Collateral
New Presentation Folder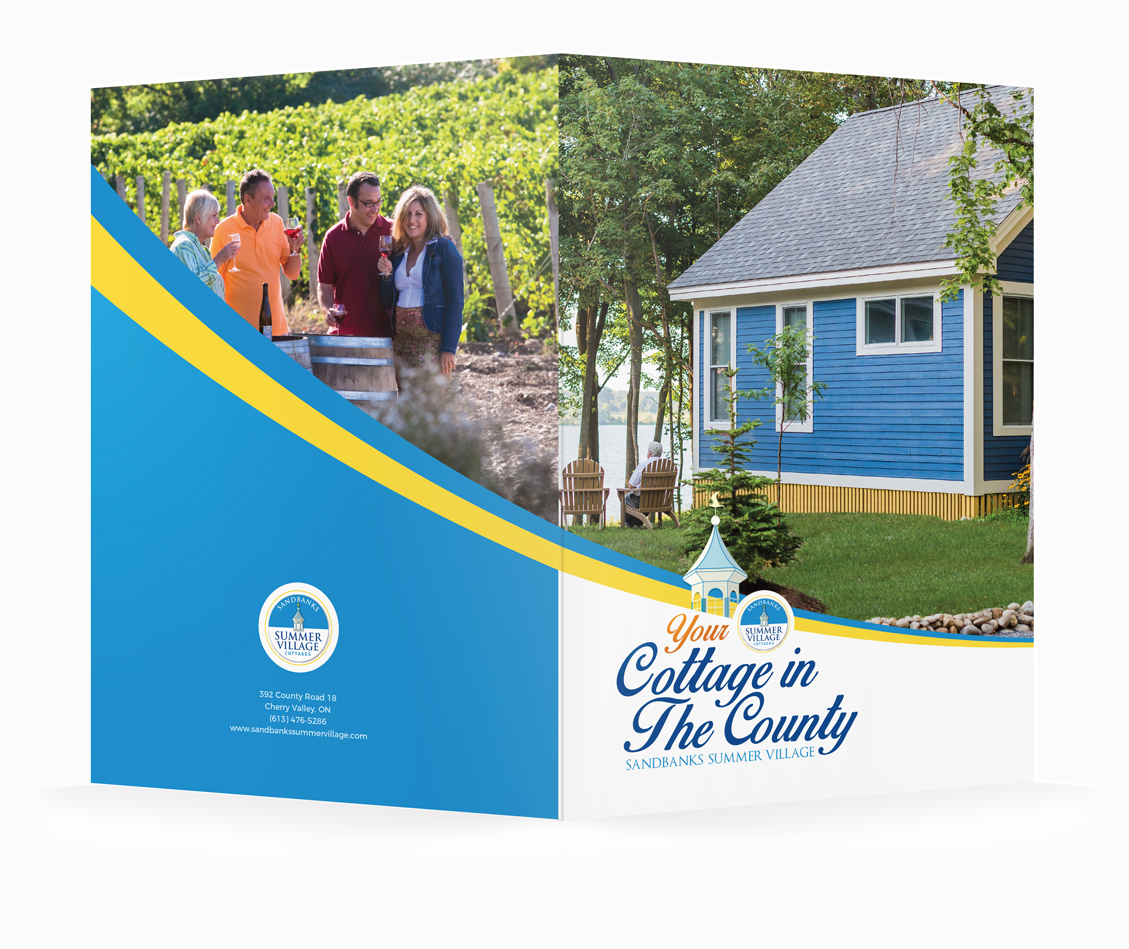 New Brochures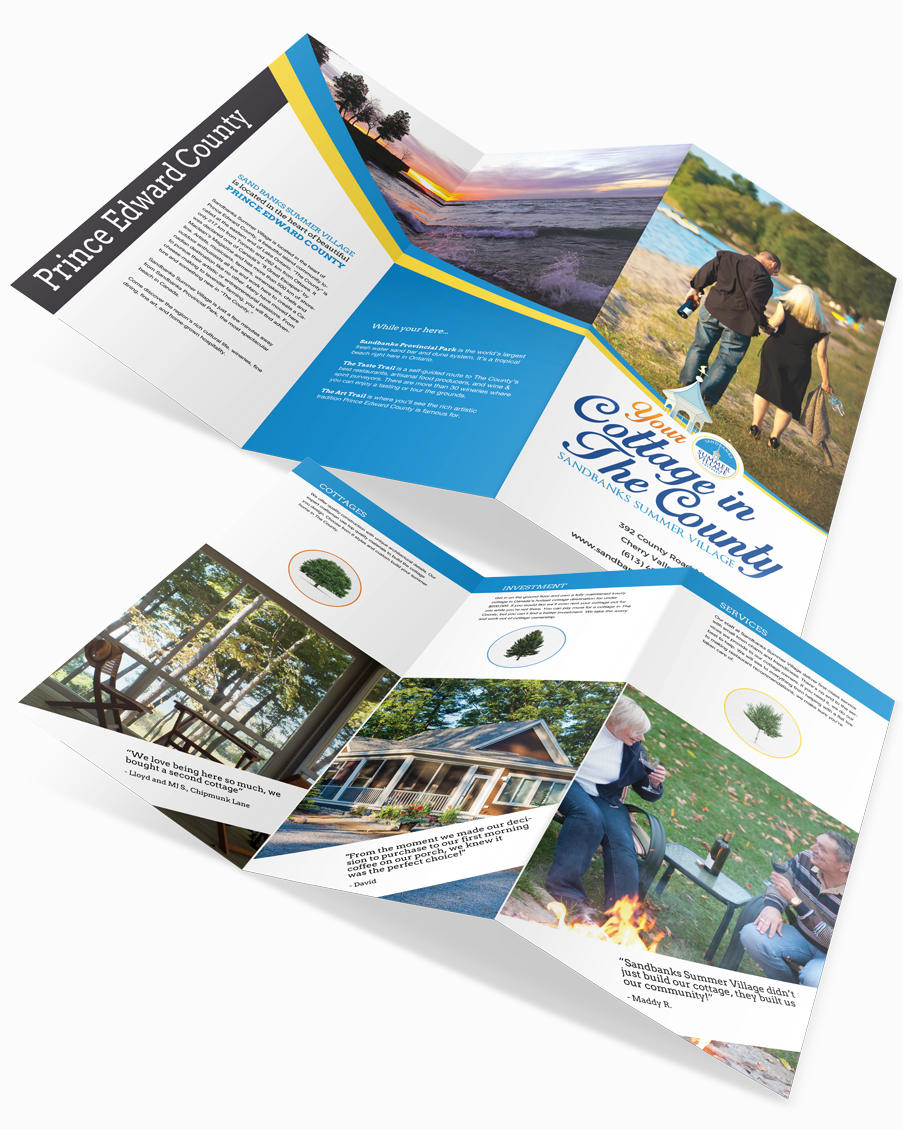 Website Redesign
The website was designed to be as engaging as possible. The design itself was wide, open and attractive with large full-width imagery and would responsively adapt to mobile devices. Visitors could explore the facilities, browse through all of the different options for cottage locations and designs, and learn about all of the activities that surrounded the development.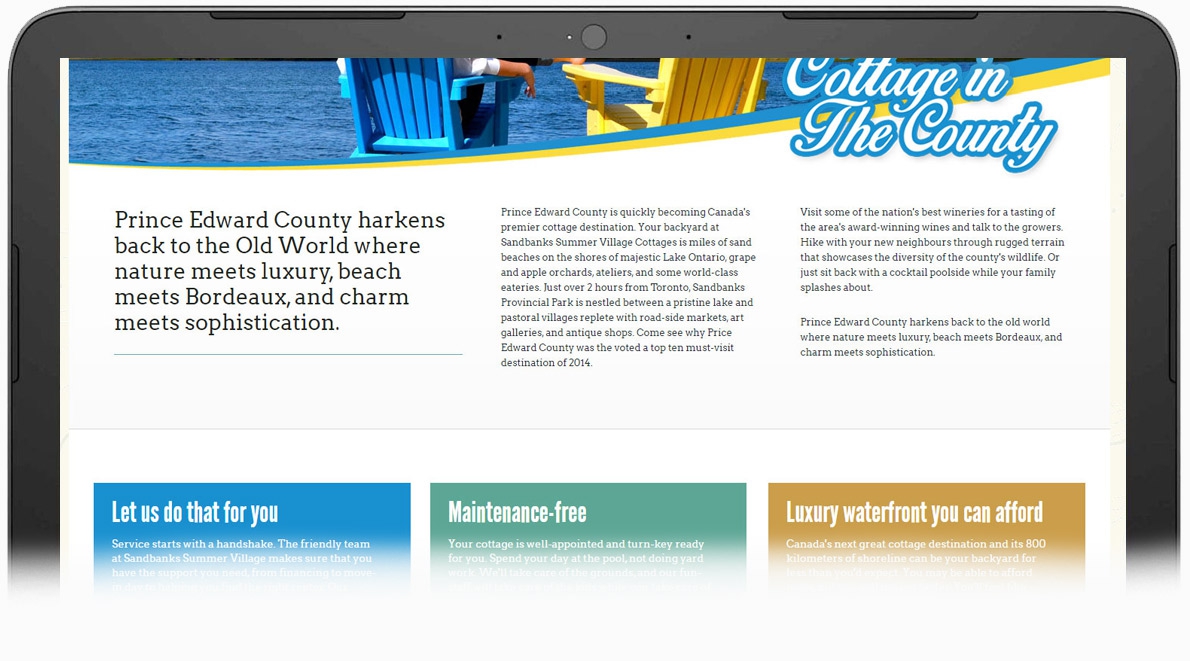 All the while, we made sure that there were clear calls-to-action, encouraging visitors to get in touch to find out more about this new and exciting cottage development. Everyone who filled out a form on the website was automatically added to Sandbanks Summer Village's customer relations management (CRM) system, a Salesforce database, enabling efficient follow up and lead nurturing.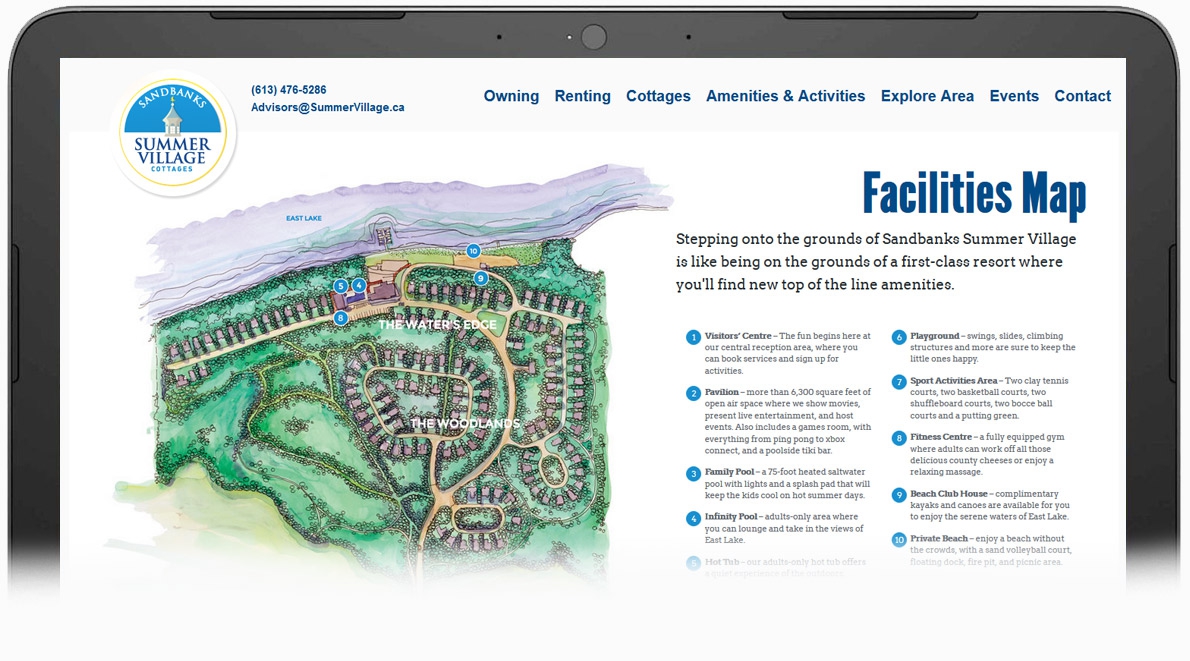 Results
Since the launch of the Sandbanks Summer Village website in March of 2014, key metrics have shown excellent results:
Average Session duration is up 50%
Bounce rate is down 20%
Organic search traffic is almost 3X greater
Number of conversions doubled